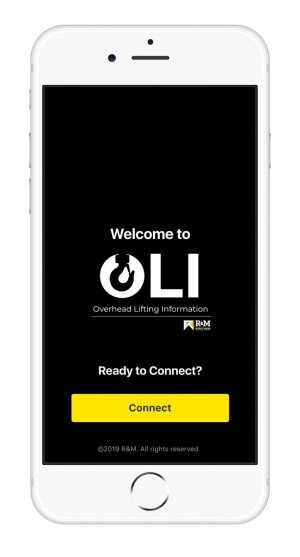 See your hoist's real-time usage and condition reports with OLI, the app that allows you to easily read HoistMonitor® data from the floor.
OLI App
The Overhead Lifting Information (OLI) app is R&M Materials Handling's latest innovation that places real-time data from the HoistMonitor® into the palm of your hand. The app connects wirelessly and is available for both iOS and Android devices. Instantly retrieve data from the HoistMonitor® from the floor, no downtime required.
Standard Features
Hardware key for wireless connection
iOS and Android connectivity
Customizable reporting and exporting
Predictive maintenance indicators
Real-time reporting on:

Equipment conditions
Key hoist events
Hoist usage
Applications
OLI allows users to pull HoistMonitor data at any time, helping you stay ahead of overloads, critical wear, start count and more. The app shows user-friendly read outs of events like runtime, current load limits, and unit temperatures. The app allows for customized data collection that formats the information for easy and concise reporting that saves time when planning for inspections and service.
Why use the OLI app?
OLI eliminates the need to shut down your equipment to access the HoistMonitor® data. The app connects via a wireless electronic key plugged into the HoistMonitor® device, allowing anyone in proximity of the monitor to pull raw data and reports. With the Overhead Lifting Information app, it's possible to create reports and collect valuable usage information from the ground, no need to stop production to collect the information you need.
How does OLI help you rise above your competition?
For an in-depth look at the advantages you can realize with OLI, read our full rundown of how Overhead Lifting Information keeps your facility safe, improves your operations and saves money. Want to speak to a hoist expert about how the new OLI app and HoistMonitor® can help you get the most out of your data? Contact us online or call 800-955-9967.