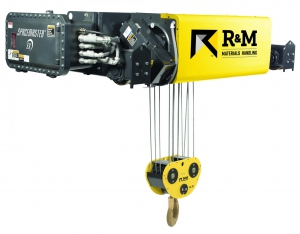 The Spacemaster® EX Class I, Division 2 Hoist is an industry-leading, explosion-proof hoist for maximum safety in potentially combustible environments.
Why Choose a Hazardous Location Hoist? 
The Spacemaster®  EX electric wire rope hoist is the hazardous location version of the industry-leading Spacemaster SX hoist. An innovative design that includes a large drum diameter gives the Spacemaster EX hoists the lowest headrooms and best wheel loads in the industry, while providing near true vertical lift with single reeving, as well as exceptional hook approaches and heights of lift.The Spacemaster EX hoist carries a Class I, Division 2 hazard location rating for Groups B, C and D and with a temperature class T3, and carries an additional marking of Class I, Zone 2 IIB+H2, T3 .
Standard Features
Safety:
The Spacemaster EX hoist carries a Class I, Division 2 hazard location rating for Groups B, C and D and with a temperature class T3, and carries an additional marking of Class I, Zone 2 IIB+H2, T3 . Additional safety classifications and features include:
Spark-resistant wire rope as standard (EN 13463-5)
ASME H3 or ASME H4 duty [FEM 1Am, 2m, or 3m] rating
NEMA 4 and 7 protection rating for control enclosure
CSA C/US approved
ATEX 94/09/EC for manufacturers
ATEX 99/92/EC for users
Capacity: 
Like the Spacemaster SX, the EX features an innovative design that includes a large drum diameter, which enables both the lowest headroom and the best wheel load in the industry, while providing near-true vertical lift with single reeving. Employing a large diameter drum also makes it possible for exceptional hook approaches and lift heights. The Spacemaster® EX is available within these ranges:
1 - 80 ton (1000 - 80,000 kg) capacities
460, 575/3/60 Hz or 380/3/50 Hz supply
Two-speed hoist with 6:1 ratio, contactor control
Two-speed trolley with 4:1 ratio, contactor control
Low headroom, normal headroom and double girder trolleys
Single reeved or double reeved
Customization:
R&M Spacemaster EX hazardous location hoists are configured specifically to your application. We offer a number of standard features, as well as non-sparking options that are specific to the environments for the Class I, Division 2 explosion-proof rating. Some of these additional features include:
Bronze coated hooks
Brass wheels
Brass drop lugs on the trolley
Stainless steel wire rope

About Spacemaster EX Cranes

Spacemaster EX modular crane packages are your one-stop solution for hazardous location cranes. Our packages include pre-engineered components, configured exactly to your application. You deserve the safest performance possible. Use our Crane Designer tool or contact us to get started
 
Downloads