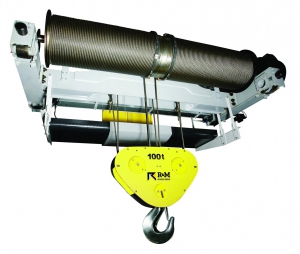 R&M's SXL is an open winch electric overhead hoist, designed for demanding, heavy-duty applications, across a wide range of industries. Learn more now!

SXL Heavy Lifting Winches
Heavy-duty lifting requires heavy-duty solutions. When you need a rugged hoist with high capacities and long lifts, the SXL open winch wire rope hoist is there to meet the most rigorous lifting demands. 
Standard Features
10- 250 ton (10,000 - 250,000 kg) capacities
CMAA/ASME or FEM/ISO duty ratings and CSA C/US certification
Compact double girder trolley with double reeving for true vertical lifts
Dual-trolley drives for powerful travel motion
Motors with thermal protection and D.C. disk brake
HoistMonitor® featuring overload protection and condition monitoring
Rope overwrap protection
Inverter control for all motions with closed-loop vector control for better performance and prolonged equipment life
Designed for You
The SXL open winch hoist is tailored to meet your specific requirements. The modular design of the hoists and trolleys allow a wide variety of application-specific designs, with all the functionality of a custom built-up hoist. Choose from an abundance of special features, such as outdoor protection and special temperature ranges, specialty hooks and provisions for below the hook devices, precision load and sway controls, maintenance platforms, extra long lifts, and extra durable hardened hoist drum and sheaves. Design your own crane package based on your needs. Click here to visit our Crane Designer.
Why choose the SXL?
The SXL open winch wire rope hoist is designed for strength and reliability, and engineered in-house specifically for heavy lifting applications. With operations this critical, nothing is more important than safety, reliability, and precision.
Safety
All SXL open winch wire rope hoists come equipped with the HoistMonitor® load monitoring system to control overloads and provide vital safety and performance data about the equipment. SXL hoists also include key safety features such as rope overwrap protection as standard. Additional features such as micro speeds and inching give the operator precise control of the load and increasing safety.
Reliability
The SXL's rugged design starts at its core. All SXL winches are equipped with D.C. disk brakes for all motions, Class H insulation on the motors, and three-step helical gearing. This machinery is designed specifically for hoisting operations, meaning you are getting the most out of your equipment. The SXL open winch hoist's unique rope drum design features a flexible two-stage geared coupling for dynamic bending and movement of the drum, reducing fatigue on the coupling.
Precision
SXL open winch hoists come standard with closed-loop vector controls, providing the most precise lifting experience available. Specialty controls also maximize the effectiveness of the equipment in your operations. Some of these features are load floating, anti-sway controls, hoisting synchronization, and extended speed ranges. Our controls packages are customizable to suit a wide variety of special applications.
Find Your Fit
Customize the SXL Heavy Lifting Winch to your specifications. Contact us today or use our Crane Designer tool to design your own crane package to fit your needs.