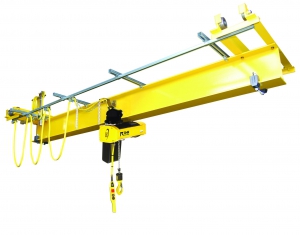 The QLP Push Crane is R&M Material Handling's reliable, economical workstation crane for easy and fast transfer of repetitive loads in tight indoor spaces. As a complete crane component package, the QLP push crane is the easiest way to cover your full floor space while utilizing R&M's innovative LK electric chain hoist. 
Applications
Push or workstation cranes are built to quickly transfer repetitive loads, providing an economical alternative to multiple jib cranes or forklifts. Assembly line, shipping and packaging facilities often rely on push cranes for their great maneuverability and minimal maintenance costs. In industries that require factory floor flexibility, like auto manufacturers or garages, push cranes can accommodate multiple workstation within one bay. 
Why the QLP Push Crane?
Eliminate manual lifting and replace cumbersome-heavy duty equipment with an easy-to-operate, lightweight alternative. R&M's QLP push cranes are pre-engineered, complete crane component packages using the cutting-edge technology of our innovative and rugged LK electric chain hoist. Our push crane packages are designed with a plug-and-play C-track festoon, meaning less maintenance and more durability than the traditional tagline power supply.
The best push cranes are easy to operate and require minimal maintenance costs. Push cranes are one of the most economical bridge cranes available, covering your entire shop floor while saving you money and labor costs. Easily build our QLP push crane package right on site using our bolt-together connections and save additional money on shipping by using locally sourced steel.
Standard Features
Single girder crane
Top or underrunning configurations
1/2- 2 ton (500 - 2000 kg) capacities
Crane spans up to 30 ft.
LK electric chain hoist with push trolley
Push type bridge end trucks
C-track style power festoon for industry-leading durability
PRQ ergonomic pendant controller
Bolt-on end stops for the hoist trolley
Meets CMAA and FEM standards
CSA C/US approved 
Want to learn more about this crane package and your specific application? Contact us online.
Use our Crane Designer to find the right-sized features for your application.
---