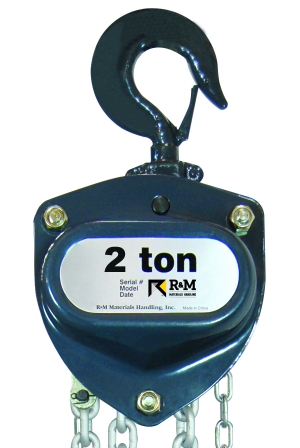 RMII manual chain hoists combine superior durability with industry-leading safety features. Learn more about R&M's manual chain hoist!
About R&M's Manual Chain Hoists
Our RMII manual chain hoists are available as standard with a 10-foot lift, or with any custom lift height up to 98 feet. The standard top hook design can be paired with one of R&M's manual trolley options, or opt for an integral hand geared chain trolley or manual push trolley (1/2 - 5 ton [500 - 5000 kg] capacities), which lowers the overall headroom of the hand chain hoist and trolley. 
Durability
High strength, grade 80 alloy steel load chain with galvanized finish for corrosion resistance
Hooks are alloy steel, heat treated and equipped with hook latches and inspection points
Treated steel shafts, gears and load wheels
Meets or exceeds international standards, including ASME B30.16
Safety
Overload limiting device to prevent lifting loads beyond rated capacity (Except 1/4 ton [250 kg] unit)
Dual pawl Weston-style brake with two brake friction discs provides four braking surfaces
Load chain guard that holds chain to pockets of load wheel for safe operation
Hooks are treated alloy steel and equipped with spring-return safety latches.
MODEL

CAPACITY
TON [KG]

FALLS

CHAIN PULL ²
LBS. [N]

OVERHAUL RATIO ³

HEADROOM
INCH [MM]

WEIGHT**
LBS. [KG]

RMII-250

1/4 [250]

1

53 [235]

17

11 [280]

14 [6.4]

RMII-500

1/2 [500]

1

54 [240]

33

13.6 [345]

25 [11.3]

RMII-1000

1 [1000]

1

57 [250]

53

14.8 [376]

29 [13]

RMII-1500

1.5 [1500]

1

60 [265]

78

17.4 [442]

40 [17.8]

RMII-2000

2 [2000]

1

76 [335]

90

18.5 [470]

45 [20.2]

RMII-3000

3 [3000]

1

84 [372]

106

>21.6 [548]

78 [35]

RMII-5000

5 [5000]

2

81 [360]

197

27.1 [688]

91 [41.3]

RMII-7500

7.5 [7500]

3

84 [372]

296

27.1 [688]

137 [62]

RMII-10000

10 [10000]

4

84 [372]

394

30.1 [765]

173 [78.5]
Note: Contact R&M for additional dimensional data
² Effort required to lift rated load.
³ Ft [m] of hand chain movement required for 1ft [m] of lift.
** Note: Weights shown are for models with 10 ft. (3m) of lift