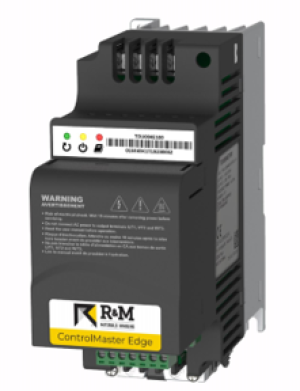 ControlMaster inverter controls offer more versatility, better performance and prolonged motor and brake life than industry-standard contactor controls.

About ControlMaster® Inverter Controls
Inverter controls, sometimes called variable frequency drives (VFD), are an electrical device which controls the speed of the motor. ControlMaster inverter controls can be use for the hoisting, trolley or bridge motion; however, the size of the inverter and the type of software it uses varies by its function. R&M QX® and QL cranes come standard with inverter controls for trolley and bridge motions. Inverter hoisting controls are an option for our Spacemaster® SX hoist and are a standard for the SXL wire rope hoist.
ControlMaster inverter controls provide better performance and prolong the equipment life. Dynamic braking (a technique of electric braking in which the speed reduction is controlled by the inverter) means the inverter controls the motor speed to nearly zero before the brake is engaged, significantly reducing brake wear. Controlled acceleration and deceleration provides smooth starts and stops and lowers starting currents, reducing gear and motor wear and structural stress on mechanical components and reducing load swing- leading to longer equipment life and better safety.
R&M continues to integrate cutting-edge inverter technology into our equipment. Learn more about our newest member of the ControlMaster inverter - the innovative ControlMaster Edge.
Inverter Control Versus Two-Speed Contactor Control
Inverter controls give the operator the ability to smoothly accelerate, decelerate and hold any speed between the defined minimum and maximum speed.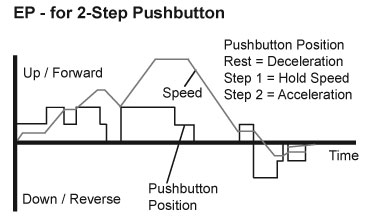 Two-speed contactor controls do not offer the operator the ability to smoothly accelerate or decelerate between the defined speeds. The brake is used for slowing the speed of the equipment.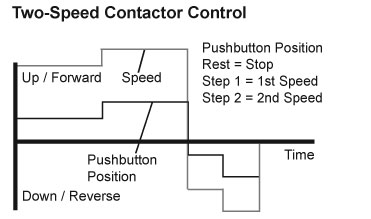 How can your project benefit from ControlMaster inverter controls? Contact us today.
Use our Crane Designer tool to choose the cutting-edge technology that will help you rise above your competition.
---