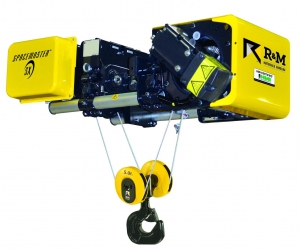 R&M's Spacemaster SX wire rope hoist features a large drum diameter that creates near true vertical lift, and its frame design allows closer end approaches than other hoists on the market. Standard electric wire rope hoist configurations include normal headroom, low headroom and double girder designs.
Standard Features
1/2 - 80 ton (500 - 80,000 kg) capacities
Lifts at 13 - 320 ft (4 - 100 m) 
Lifting speed range 10/1.5 - 62/10 fpm (3/0.5 - 19/3 mpm)
208, 230, 460, 575/3/60 or 380/3/50 power supply
Single-reeved or double-reeved
Load monitoring
2-speed hoisting and inverter-controlled trolley motions for better performance and prolonged equipment life
Lowest headrooms in the industry
Why Choose The SX Hoist?
We are committed to helping you rise above the challenges of your everyday business. The safety, reliability and reduced maintenance of the Spacemaster® SX wire rope hoist allows you to get the most out of your equipment. As a standard feature, this hoist includes hoist monitoring to provide real-time data about hoist operation.
Applications
Designed to maximize dimensional envelope and operational efficiency, the wide capacity range of this hoist is ideal for applications across industries. The Spacemaster SX wire rope hoist can be configured to your precise facility needs, from building headroom and workflow needs to environmental considerations.
Easy to Operate
Our innovative hoist design provides the best headroom in the industry while minimizing hook drift and maximizing end approaches. This means you get more floor coverage and easier operation of the equipment. Standard inverter controls on the trolley reduce load swing and minimize brake wear.
Safe
R&M offers load monitoring systems as standard with every wire rope hoist. The HoistMonitor and HoistWatch systems give you real information about your equipment use and service needs while preventing overloads to the crane. In addition, our regenerative braking system can ensure safe operation for your crane operators.
Reliable
At R&M, all our equipment is designed in-house, specifically for lifting applications. The innovative gear case design reduces stress on drum bearings, lowering the need for maintenance and extending the life of the equipment. Our unique rope drum design, with 40:1 drum to rope diameter and motor inside the drum, provides the least hook drift in the industry while improving motor cooling efficiency.
Need Something Fast?
Our RX Program has a selection of wire rope hoists ranging from 1 to 40 tons, available in 2-5 business days! Ask a R&M Distributor for more information on this program. 
Design Your Own Crane
Have an upcoming project? Use our Crane Designer for an instant recommendation of crane and hoist components that will help you rise above your competition.