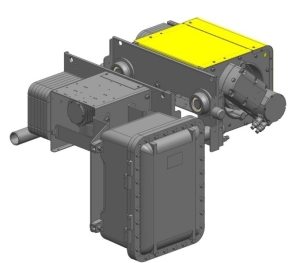 The Spacemaster® EX Class I, Division 1 Hoist hazardous location hoist is certified to meet Class I, Division 1, Groups C & D and T4 temperature class.
Product Features
Like the Spacemaster SX, the EX features an innovative design that includes a large drum diameter, which enables both the lowest headroom and the best wheel load in the industry, while providing near-true vertical lift with single reeving. Employing a large diameter drum also makes it possible for exceptional hook approaches and lift heights. The Spacemaster EX is available within these ranges for Class I, Division 1 rated environments:
1-20 tons (1000 - 20,000 kg) capacities
460 or 575/3/60Hz supply
Two-speed hoist with 6:1 ratio, contactor control
Two-speed trolley with 4:1 ratio, contactor control
Low headroom or normal headroom trolleys
Single reeved or double reeved
Intrinsically safe-wired circuitry
Mainline contactor and control transformer
Pendant controller rated for hazardous locations
What is the difference between a Class I, Division 1 hoist and a Class I, Division 2 hoist?
There are many features that make a the Spacemaster EX CID1 hoist different than the CID2 hoist, including:
Different hoisting and traveling motors
Bigger hoist control panel and new panel fixing plates
Armored cables instead of flexible conduits for motors
Different cable entries for motor cables due to armored cables
Intrinsically safe circuit for control commands and limit switches
Additional barrier relays because of intrinsically safe circuit
Additional labels to mark intrinsically safe circuit cables outside the enclosure
Stainless steel hoist data and warning plates
What does intrinsically safe-wired mean?
Intrinsically safe electrical systems are designed to limit the electrical and thermal energy in a circuit to a level below what is required to ignite an explosive gas or dust atmosphere. A circuit design considers potential energy that may be present in field devices and interconnecting wiring. Intrinsically safe circuits are used for control commands and limit switches on CID1 equipment.
Hazardous Location Rating
This hoist is certified to meet Class I, Division 1, Groups C & D, T4 temperature class, and bears the CSA C/US mark. Class and Division rated equipment can be used in the appropriate Zone classified environment as permitted by the National Electrical Code (NEC 505.9 and NEC 505.20) and the Canadian Electrical Code (CEC C22.1).