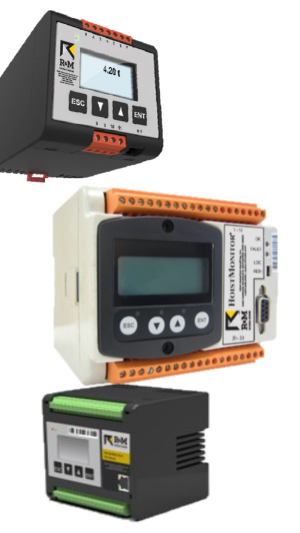 Hoist monitoring with R&M's HoistMonitor®, HoistMonitor Enclave, and HoistWatch devices provides real-time data on the condition of your hoist while protecting from overloads.
About Hoist Monitoring
Hoist monitoring protects your equipment from overloads while providing you with accurate real-time information about how your equipment is being used. We have used our 90 years of experience in the hoist and crane business to also build in helpful service warnings to help you plan your routine maintenance. Monitoring functions do not interfere with the use of your hoist; however, in the case of a safety-critical incident, such as an overload or snag, loads are able to be safely lowered to the ground. R&M offers three devices for hoist monitoring - the original HoistMonitor, HoistWatch, and the new HoistMonitor Enclave.
 HoistMonitor Enclave
The HoistMonitor Enclave is R&M's next generation condition monitoring unit that will allow for a more holistic view of your hoist and trolley. R&M's newest condition monitoring device delivers the latest electronic technology, enhances functionality and allows for expansion with future electrics technology.

Standard Functions
Overload protection
Run and fault supervision
Shockload prevention
Protection for motor overheating
Starting and stopping through slow speeds for safer load handling

Time stamped alarm/fault log for easier troubleshooting

Reliable calculation of hoist's Designed Working Period percentage (DWP%)
Additional Capabilities*
Ability to communicate with the ControlMaster® Edge inverters for whole-crane monitoring

Compatible with remote monitoring technologies

Wireless connectivity with OLI app
HoistMonitor
The HoistMonitor is our original hoist monitoring unit. It also includes our most robust offering of data and features. The HoistMonitor is available for any Spacemaster SX wire rope hoist, but it is standard on all SX6 and SX7 hoist models. The HoistMonitor is also compatible with our OLI app, when a wireless electronic key is installed.
Standard Functions
Overload protection
Supervision of faults and runtime information
Sudden loading / snag supervision
Starting & stopping through slow speed for brake protection
Designed working period calculation (DWP%)
Proactive service warning calculations
Additional Capabilities*
Load summation for multiple hoists on a crane with multi-hoist crane overload protection
Scoreboard or controller load display outputs
Overload indicator outputs for lights and horns
Slack rope supervision to avoid shock loading
HoistWatch
The HoistWatch includes many of the great safety and performance features of the HoistMonitor, but with a simple, easy to navigate interface. The HoistWatch is standard on Spacemaster® SX2, SX3, SX4 and SX5 hoist models. HoistWatch is not compatible with the OLI app.
Standard Functions
Overload protection for single hoists
Supervision of faults and runtime information
Service warning for brake wear
Additional relay for optional light or horn alarms
We offer hoist monitoring as a standard on all of our hoists. Which hoist monitoring device is best for you? Contact us today or try out our Crane Designer tool.
*May require additional features or R&M equipment