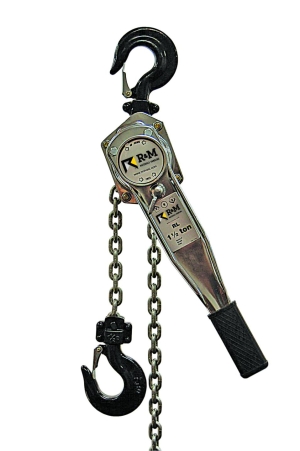 RL lever pullers offer a compact and light-weight solution for your lifting and pulling needs. Learn more now!
About Lever Pullers
The RL manual lever puller is available from 1/4 - 6 ton (250 - 6000 kg) capacities. The lever pullers come standard with a 5-foot lifting height, but additional chain lengths are available. Their compact size and light weight means you can easily use your lever puller in many locations. The RL lever pullers are able to operate in tight spaces with 360° handle rotation. All R&M lever pullers are equipped with important safety features, including a dual pawl Weston-style brake with two friction discs providing four braking surfaces and an all-steel construction. The RL lever pullers meet or exceed international design standards, including ASME B30.21.
RL Manual Lever Puller
The RL manual lever puller is our standard duty lever puller option. This lever puller is perfect for lighter duty applications such as construction and service work, with the same great safety and quality assurance as the premium version. The 1/4 ton (250 kg) RL lever puller with standard 5-foot lift also features an optional carrying belt for even more convenient operation.
MODEL

CAPACITY
TON [KG]

FALLS

NOMINAL LEVER EFFORT *
LBS. [N]

HANDLE LENGTH
INCH [MM]

WEIGHT **
LBS. [KG]

RL-250

1/4 [250]

1

55 [245]

6.61 [168]

5 [2.1]

RL-750

3/4 [750]

1

55 [245]

12.13 [308]

14 [6.2]

RL-1500

1.5 [1500]

1

66 [294]

16.06 [408]

21 [9.5]

RL-3000

3 [3000]

1

88 [392]

16.46 [418]

45 [20.2]
*Effort required to lift rated load
** Note: Weights shown are for models with 10ft.(3) of lift