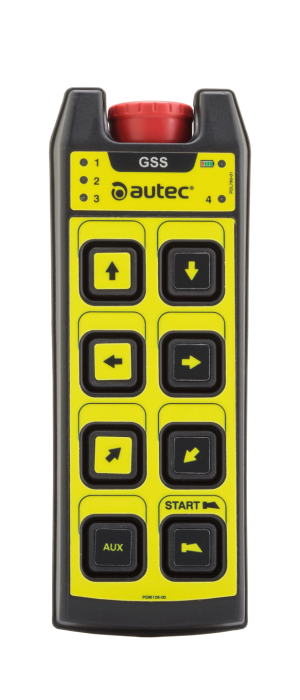 The RaCon® handheld radio controllers give operators one-hand usability and improved safety during operation.
Crane Operation Made Easy and Safe
The RaCon® remote control is designed to be used in conjunction with the Spacemaster® SX wire rope hoists and the QX® or QL crane packages. The ergonomic design allows operators a more comfortable grip to better control the load. With their full concentration on the load, crane operators can control the crane from the safest location with no restriction of a fixed-length pushbutton controller cable.
 
RaCon ARC Radio Controller
 The RaCon ARC radio control system provides the best price: performance ratio available; offering a high-quality, rugged radio control at the price point you need.  All the past conveniences of the RaCon brand at the most economical price ever offered!
Why RaCon ARC?
Pigtail and plug matched to your equipment

Two transmitters powered by AAA batteries

Protective pouch and strap

Mounting hardware included

Transmitter controlled horn

Protected e-stop button

UL c/us and CE approvals

Easy pairing of replacement transmitter with the MY LIFT OEM App
RaCon 5 Radio Controllers
Need some additional functions and features? The RaCon 5 family of radios offers a broad range of features, designs and special functions. From standard designs to belly box controllers, we can handle the operations you need!
RaCon 510QU and 512QU radio with 2-step momentary buttons
RaCon 516M3 radio with 2-step momentary buttons and display for HoistMonitor® Condition Monitoring
RaCon 510MI and
516MI radio with
2-step momentary buttons
| | | | |
| --- | --- | --- | --- |
| | | | |
| RaCon 512SP, 516SP, 524SP, and 736SP radios with two advanced joystick controllers. | RaCon 736SA radio with two analog joystick controllers | RaCon 516S2 and 524S2 radio with two advanced joysticks and display for HoistMonitor condition monitoring | RaCon 512EC and 516EC radio with two mini-joystick controllers |
Interested in RaCon remote controls for your Spacemaster SX, QX or QL crane package? Contact us online or see recommendations for your specific application with our Crane Designer tool.
---