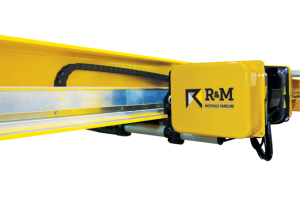 The NRGmaster energy chain crane features our innovative NRGmaster festoon & RaCon® radio controller for the best floor coverage, ease of operation & limited down time.
Energy Chain Cranes
NRGmaster energy chain cranes feature an energy chain-style crane electrification system that supplies power to the hoist. It is an alternative to the traditional C-track festoon system featured on the QX® modular crane. NRGmaster electrification consists of power and control cables that are enclosed in a flexible chain. The chain rests in a guide channel that is fastened to the web of the bridge girder. The free end of the chain bends into a U-shape and connects to the hoist tow arm while the other end fastens to the channel. The NRGmaster energy chain crane helps you achieve the best crane clearances and shop floor coverage while reducing the maintenance concerns associated with traditional C-track festoons.
 Standard Features
Spacemaster® SX wire rope hoist
NRGmaster festoon with spans up to 100 ft (30 m)
Maximum hoist capacity = 80 tons (80,000 kg)
1 or 2 hoists per bridge
RaCon® ARC radio control included for one-hand usability and improved operation safety
CSA C/US approved 
Applications
With the NRGmaster, there are no dangling festoon cables that could impede the movement of the crane around other on-site equipment. The NRGmaster energy chain crane is advantageous in applications that require frequent trolley motion or any time that a radio controller is necessary. Compared to a C-track festoon, the NRGmaster is a more durable product with less possibility for breakage or pinching of the internal wires, which could lead to damaged parts and increased down time. Factories that are customer-facing (such as an auto manufacturer) choose the NRGmaster for its clean, streamlined appearance.
Unmatched Clearance and Floor Coverage
The compact design of our Spacemaster coupled with optimized crane components and bridge girder design results in lower roof heights with maximum lifting heights and hook-to-wall dimensions. Your new building design can be smaller and more functional, giving you savings in initial construction and continual savings in heating and/or air conditioning expenses over the lifetime of your building. The NRGmaster festoon gives you the most flexible options for your factory layout and material flow planning.
Easy Operation
The NRGmaster energy chain crane does not just look clean and simple ­– it helps you simplify operations! The NRGmaster festoon system removes the maintenance concerns associated with a traditional C-track festoon. There are no dangling wires to snag on equipment, and the electrical cables are protected inside the energy chain with a much wider turning radius which helps to prevent broken wires. Additionally, the crane system comes standard with our RaCon ARC radio for safer, hands-free and more ergonomic operation of the crane, providing operators with a more comfortable grip to better control the load.
Ready to talk about the NRGmaster and your specific application? Find a distributor near you to learn more.
Is the NRGmaster the right choice for your application? Use our Crane Designer tool to see immediate recommendations.